4 Reasons Why It's Better to Hire a Licensed and Insured Locksmith
Residential security threats are a big concern for homeowners. According to the report of the FBI, around 1,401,840 burglaries were reported in 2017 in the US. The risk of theft and burglaries can be stressful for property owners if your house security isn't effective. And one of the key elements that guarantee prevention against break-ins is reliable door locks.
Lock repair and replacement is an important task to maintain house security and should only be performed by a reliable professional. However, with 24,371 locksmith services across the US, it's hard to find the right person to do the job.
To make sure you don't waste your time, resources and money, it's better to go for a licensed and insured locksmith. Here's why it's essential to call in a locksmith with proper certification and insurance for your locksmith needs.
Reliable and Trustworthy:
It's easy to fall in the trap of frauds and scams these days. Anyone can present themselves as an expert locksmith. To make sure you aren't dealing with a scam or a fake service provider, it's better to check the proper licensing issued by the state government.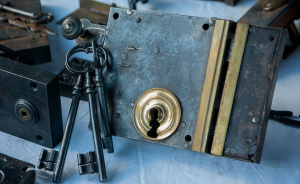 A licensed locksmith guarantees their expertise in the lock repair and replacement services. These locksmiths are trained to perform their job from registered training centers and have the relevant security clearance to handle challenging situations.
Saves You from Additional Expenses:
A locksmith that isn't licensed and insured not only increases the risk of damage but also adds to the expenses in case of damage. If things aren't handled with care and a misfortunate event takes place, the customer has to pay for full damage.
Locksmith insurance provides relief from additional expenses to the customers. In case of an error, the insurance company pays for the cost of damage protecting both homeowners and technicians.
They Have the Right Tools:
Another benefit of hiring a licensed locksmith is the use of reliable equipment to carry out the repairs and replacements. They understand the importance of investing in the latest equipment and have the training to use them effectively. The high-quality tools make sure that the installations and repairs are long-lasting and free from errors. Uncertified locksmiths lack proper knowledge and can overcharge you for poor-quality services.
They're Well-Trained:
Making false claims is easy, but having appropriate certification and license of practice is what makes a technician fit for the job. A license indicates that your locksmith went through extensive training and has the right professional education to do the job. They register with a government organization for regular training. This allows them to tackle some of the most complicated and challenging tasks.
If you're looking for a licensed and insured locksmith in McDonough, GA, reach out to AA Locksmith. Our locksmiths are trained to deal with residential, commercial and automotive lock issues.